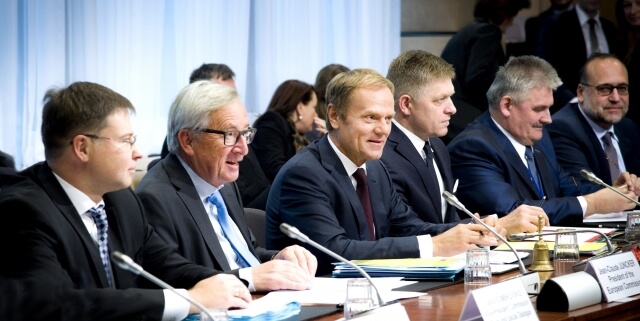 CEC at the Tripartite Social Summit
CEC European Managers participated to the Tripartite Social Summit, exchanging on topics like the Brexit, among others.
The Tripartite Social Summit is the main appointment for European social partners: twice a year, on the eve of the European Council, representatives of European and national social partner organizations are invited by the European institutions for an exchange of views on the most pressing economic and social issues. CEC European Managers participates in the Tripartite Social Summit within the framework of the Liaison Committee, in partnership with Eurocadres. The meeting took place on October 19th at the Justus Lipsius building, the seat of the European Council, and was chaired by the President of the European Commission, Jean-Claude Juncker, the President of the European Council, Donald Tusk, and the Slovak Prime Minister, Robert Fico, in cooperation with governmental representatives of the countries holding the incoming presidencies of the Union (Estonia and Malta).
The works of this session were organized around three main topics, which added to a general discussion about the current challenges of Europe in the light of "Brexit" and the future of Europe. The three issues that were covered by the moderated discussion were an analysis of the challenges in view of the Annual Growth Survey for 2017, the contribution that social partners can give in implementing the New Skills Agenda launched by the European Commission in June and finally a debate on the socio-economic integration of migrants.
CEC European Managers was represented by Luigi Caprioglio, the Secretary General. In his speech, Mr. Caprioglio briefly reviewed the main aspects of the current socio-economic situation, characterized by a very weak economic recovery and growing disparities throughout countries, underlining how the European Union must focus on re-estabilishing growth and increasing citizens' confidence in the capacity of the European institutions to deliver tangible results. Finally, he highlighted the specificity of managers as "bridge builders" between workers and the upper management, which gives them a better capacity to understand the needs of both sides and faciliate dialogue. A capacity that managers are willing and ready to put to the service of public authorities and the society as a whole.
https://www.cec-managers.org/wp-content/uploads/2016/10/2fb612e9d046e580d0e79c238c9a7eae.jpg
390
640
Jean-Philippe Steeger
http://cec-managers.org/wp-content/uploads/2018/02/logo_spacer.png
Jean-Philippe Steeger
2016-10-19 14:39:53
2018-06-22 21:58:35
CEC at the Tripartite Social Summit