New report: leading the way on climate
The European Union has set its ambition to become a global climate leader. With the Fit for 55 package and the proposed Green Deal Industrial Plan, it is clear that we need to scale-up the transition to a net-zero economy. This requires leadership. Against that background, CEC European Managers is pleased to present the new "From climate crisis to climate action: 10 principles for future climate leadership" report by its member organisation Lederne from Denmark.

"Managers need to be part of the solution to implement our climate ambitions. Our work on Sustainable Leadership has shown that leadership has been the underlooked dimension of the transition to a sustainable economy." Maxime Legrand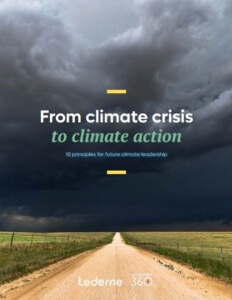 As highlighted in CEC European Managers' research and EU project on Sustainable Leadership, CEC is convinced that the underlooked dimension of the transition needs to be addressed urgently: leadership. Indeed, leaders in private and public sector organisations are the ones who will need to implement the climate objectives. The climate crisis is a leadership crisis.
The report gathers important insights from leading scientists, climate experts and transition leaders on making leadership fit for climate action. Their finding: it is right now that the basic understanding of the climate crisis must be established in the population, it is now that the basic support for taking action must be established – rather than waiting until the state is forced to use more heavy-handed methods. Leaders have the responsibility and capacity to learn for preparing the increasingly likely scenarios ahead of us.
Read more
Climate Leadership Report (web)
Climate Leadership Report (print)
Lederne website
https://www.cec-managers.org/wp-content/uploads/2020/12/Icebear.png
4500
8000
Jean-Philippe Steeger
http://cec-managers.org/wp-content/uploads/2018/02/logo_spacer.png
Jean-Philippe Steeger
2023-03-13 12:34:27
2023-03-13 14:43:36
New report: leading the way on climate