#ManagersForFuture ask 'how' we will manage the sustainability transition
The world is in crisis. A growing number of citizens around the globe demand action to fight climate change, restore social justice and set the economy on a sustainable path. While the targets, as set out by the Paris Agreement and the Sustainable Development Goals, clearly state what we have to change, only little time is spent on how we have to change. Like no others, managers in the private and public sectors bear particular responsibility in setting their organisations on a sustainable path and leading personally by example. The #ManagersForFuture campaign therefore raises the question how to operate the necessary paradigm shift in management skills, practices and purpose.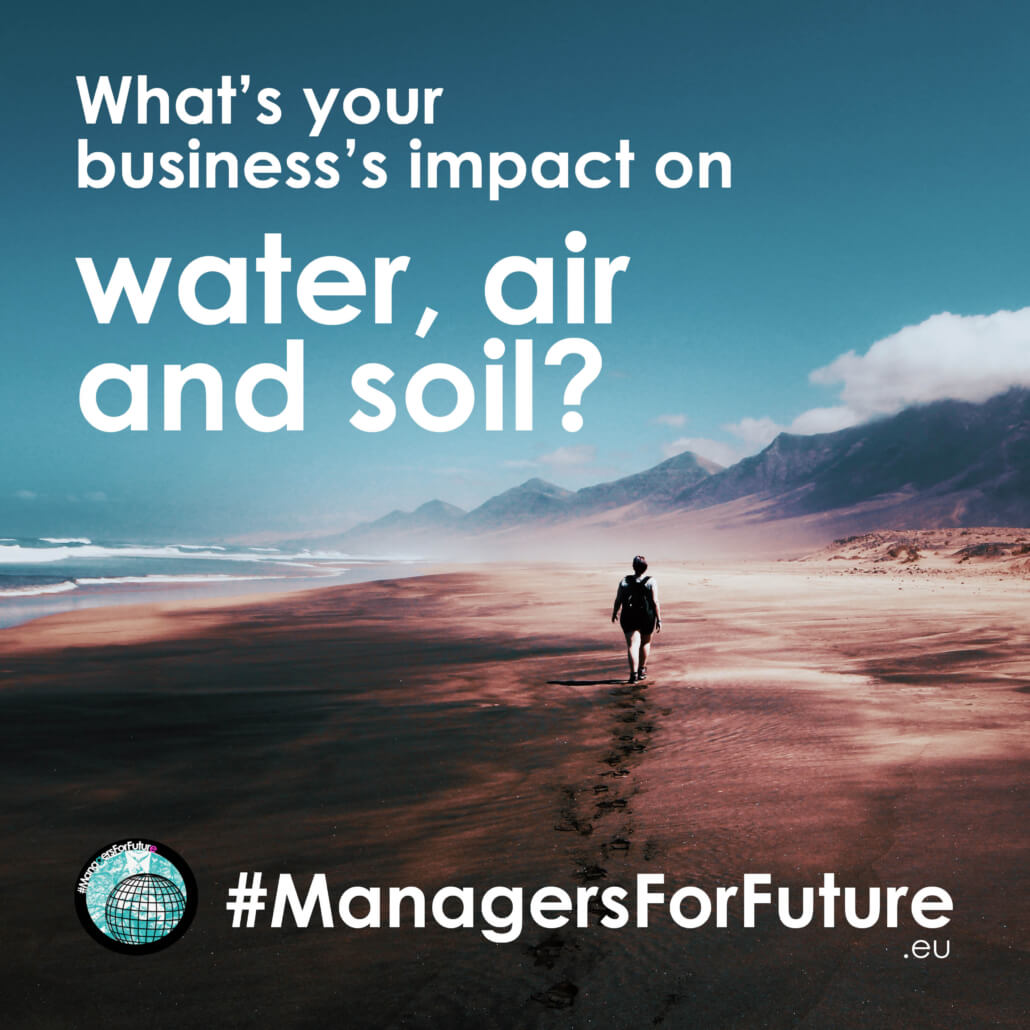 At a time where the scientific community has come to a global consensus on the existence of human-made climate change, action is now needed by policy-makers, citizens, consumers, workers and managers to remain below the 1,5 – 2°C global warming scenario, as identified by the Intergovernmental Panel on Climate Change (IPCC). The environmental urgency is accompanied by growing socio-economic differences among and within global societies, eventually becoming the fertile ground on which extremist political forces thrive today. And economically speaking, many companies are yet ill-prepared for the sustainable transition of the economy, while global trade tensions, accelerating market concentration and financial instability put business prospects at risk. A more well-being oriented economy that operates within the existing planetary boundaries has to be developed. And managers will be key to do just that.
If the world is facing multiple crises, humankind nevertheless disposes of all technical, social and ecological approaches to tackle them. Life sciences, social sciences,  engineering and other disciplines provide knowledge about possible solutions.
But we now need to become operational by using management and leadership tools to implement these solutions and drive transformative change.
 Time for change – starting with ourselves  
Transformative change does not come from a void. It requires knowledge, skills and action. Today however, only little attention is put on the question how skills, company dynamics, accounting and other work practices can become more sustainable (the how), eventually leading to sustainable results (the what) on the triple bottom line[1]. Managers are central in shaping the strategic development of their companies, while ensuring that all business parameters align to the objectives. Managers are also responsible for providing learning opportunities to workers, besides granting decent working conditions and protecting health and safety at the workplace. However, managers face a set of hurdles to make their organisatons more sustainable.
How can meaningful progress towards a sustainable future be achieved, if most of us work in inadequate structures? And how can our impact become less harmful, if managers are often not trained on sustainability?
Managers need to be equipped with the right skills in the domain of sustainability. Today's business education, company structures and management practices are however not fit for purpose by delivering insufficiently sustainable impacts. A whole new set of leadership skills is required for a world characterized by volatility, uncertainty, complexity and ambiguity (VUCA). Mindfulness, emotional intelligence and learning to learn will become increasingly important to make sense of a rapidly changing environment. Without awareness on systemic relationships and an understanding of the own role as change agent, corporate action towards more sustainable thinking and practices is doomed to fail. Rather than solely controlling and planning, managers will increasingly be asked to align purpose, action and personal creativity.  By benefitting from meaningful work and taking ownership over the development of a sustainable business model, employees are likely to see their work performance, satisfaction and health increase.
Against that background, the #ManagersForFuture campaign will raise awareness on the role management plays in shaping the sustainability transition. At the same time, it will spark debate on the purpose and vision of the managerial profession. Only by deliberating on a clear vision and purpose, can sustainable and concrete best practices be identified to the benefit of people and the planet.
The time for action has come. #BeFuture and join the movement.
Learn more on www.managersforfuture.eu
[1] https://www.economist.com/news/2009/11/17/triple-bottom-line
https://www.cec-managers.org/wp-content/uploads/2019/09/MFF-vision.jpg
6750
12000
Jean-Philippe Steeger
http://cec-managers.org/wp-content/uploads/2018/02/logo_spacer.png
Jean-Philippe Steeger
2019-09-02 11:13:25
2019-09-05 10:42:46
#ManagersForFuture ask 'how' we will manage the sustainability transition