Tackling unprecedented employment and mental health crisis
Eurofound's new "Living, working and COVID-19" report depicts a European mental health crisis linked to a record number of people losing their job. The alarming research is based on a large-scale survey among 190 000 participants across the EU, with similar trends observable in all Member States. Both managers and policy-makers now have to prioritize creating more fertile framework conditions for mental health and job security.
"We regret to see that the risks of financial precariousness, loneliness and depression have become mainstream in the EU. As society and labour markets polarize, we need real action on socio-economic inclusion, new sustainable jobs and mental health infrastructure. Managers in the public and private sector have a key role in this regard." Maxime Legrand, President
The report on Europe's evolving living and working conditions illustrates the amplitude of damage with regards to citizens' financial precariousness, next to deteriorating mental health and ill-designed public policies in EU member states. With 50% of respondents living in a financially fragile situation, a renewed attention has to be put onto employment as key contributor to financial stability, social inclusion and sustainable new jobs.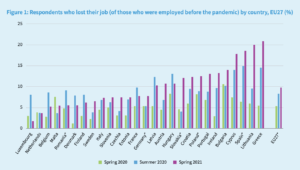 When it comes to public services, better and more accessible (mental) health infrastructure and more solidarity are needed in the EU, in and among Member States. In the private sector, managers have all interest designing more suited and health-prone workflows, while remaining in trustful dialogue with their employees. Employers are responsible for health and safety at work, including for remote work. There is a need to speed up preventing psychosocial health risks. If no action is taken, we take great debt on life quality, public health and accelerate exploding macroeconomic costs.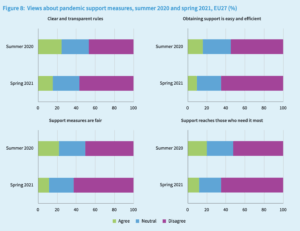 Today, 18% of EU citizens have unmet medical needs, mostly in Eastern EU countries and those countries hit hardest by past EU austerity measures in the health sector. Furthermore, a growing majority of citizens regrets that pandemic support measures by public services are untransparent, unfair, difficult to get and not suited to those needing it most. German citizens were the most dissatisfied by these measures, with Ireland scoring best. This growing dissatisfaction with the responses to the pandemic poses a threat not only to trust in public services, but also democratic institutions and values of solidarity.
When it comes to remote working, there are now fewer people working exclusively from home than in Summer 2020. Preferences when it comes to remote working arrangements are distributed in a rather large range, requiring managers to account to workers' preferences. Around 47% of employees say they would like to work daily or several times a week from home, while 24% say they would prefer to never work from home.

As already confirmed by multiple previous studies, women are in general hit harder by the impacts of the pandemic than men. As a result of increasing workloads, ill-designed policies and lacking support structures, women suffer disproportionally from tiredness, loneliness and risk of depression. Nevertheless, the report also shows that a record number of men face depression, loneliness and feelings of tension. Compared with other groups, only older men were relatively untouched by more challenging pandemic-related circumstances. As a previous CEC report has shown, managers are particularly hit by mental health challenges and burnout.
More Information

"Living, working and COVID-19" report by Eurofound
"Leadership in times of Coronavirus" report by CEC European Managers
"Managing psychosocial health risks" article by CEC European Managers
https://www.cec-managers.org/wp-content/uploads/2021/06/Heads-up-scaled.jpg
1440
2560
Jean-Philippe Steeger
http://cec-managers.org/wp-content/uploads/2018/02/logo_spacer.png
Jean-Philippe Steeger
2021-06-09 10:17:25
2021-06-14 15:30:41
Tackling unprecedented employment and mental health crisis