Eurobarometer: managers are strongest backers of EU democracy
The latest Eurobarometer survey confirms that managers are the socio-professional category that is most supportive to European democracy. Despite growing Euroscepticism in some countries, citizens generally think the EU goes more into the right direction than their own country does. However, the finding that a majority thinks their voice is not heard in the EU underlines the need for greater citizen participation and strengthening the role of intermediate bodies like social partners.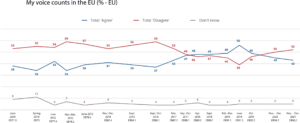 The Eurobarometer is a regular large-scale survey that measures public opinion in the 27 EU member states. The latest edition, published in January 2022, has found that the positive attitudes towards the European Union in general and the European Parliament in particular, have remained stable. A majority of EU citizens (62%) consider that it is a good thing that their country is a member of the European Union and that they have benefited from the EU (72%). Yet, there are great differences among the member states and among socio-professional categories.
Overall, citizens put a great emphasis on the importance of democracy. Around a third of respondents thinks that European democracy is the first value to be defended by the European Parliament, followed by the freedom of speech, the protection of human rights and gender equality. Citizens also expressed the priorities they would like to see covered by the European Parliament. Unsurprisingly, public health heads the list with 42%, followed by the fight against poverty and social exclusion with 40% and the fight against climate change with 39%.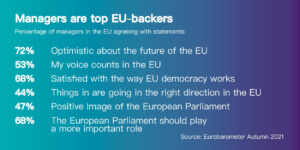 When it comes to managers, the findings confirm that they are the greatest backers of EU democracy among socio-professional categories. However, consistent with findings by CEC European Managers, many would like to see democratic participation, including through the European Parliament, strengthened. The low confidence in the EU among people in unemployment and low-income groups also highlights the need to strengthen the Union's social dimension. In the workplace, managers should be encouraged to play a more active role as influencers on European issues and promoters of democratic practices.
Read more
Eurobarometer Autumn 2021 – Summary (PDF download)
Eurobarometer Autumn 2021 – Full Report (PDF download)
Read the "Managers in Europe" report by CEC European Managers for more information about managers in the EU and Europe
https://www.cec-managers.org/wp-content/uploads/2022/02/eurobarometer-21.jpg
625
1250
Jean-Philippe Steeger
http://cec-managers.org/wp-content/uploads/2018/02/logo_spacer.png
Jean-Philippe Steeger
2022-02-09 12:59:03
2022-02-09 13:30:35
Eurobarometer: managers are strongest backers of EU democracy