EU social partners agree on their joint policy agenda for the next three years
According to the EU treaty provisions, EU social partners are granted specific lawmaking competences (in the field of social and employment affairs), and see their autonomy acknowledged, promoted and respected by EU institutions. Concretely, such autonomy materializes with the adoption of a joint work programme, in which social partners identify topics of common concern and agree on the objectives they want to achieve and the tools to put in place to achieve them. In the course of an official ceremony, EU cross-industry social partners have presented last June 28 their work programme for the period 2022-2024, the result of more than 9 months of negotiations between representatives of employers and employees' organizations from all over Europe (including CEC European Managers, in the person of its President, Maxime Legrand).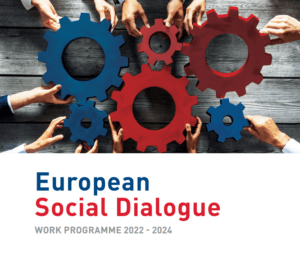 The program consists of six different issues, each covering a significant and rapidly evolving feature of the labour market: telework and the regulation providing the right to disconnect for teleworkers, the green transition, tools to support youth employment, the issue of data surveillance and work-related privacy, contrasting skills mismatch and finally capacity building. More in detail, as far as the first one is concerned, social partners have agreed to negotiate on a revision of the 2002 agreement regulating telework, updating its content and introducing provisions on workers' right to disconnect. This agreement represents a significant novelty, as – if negotiations come to a successful conclusion – it would represent the first cross-industry social partners' agreement to be implemented in the form of a directive since 1999.
The next steps 
CEC European Managers has participated actively in the negotiation phase, expressing its positions specifically on the first and second issues. In the context of telework, CEC European Managers (which will participate also in the negotiation of the agreement, due to start next autumn) will defend the importance of including telemanagement in the discussion, as the set of practices that allow managers to perform their duties from distance, for which the necessary training, funding and policy attention are required. Also, the focus on the green transition mirrors CEC's commitment to sustainable leadership as a new paradigm to mainstream and integrate sustainability in business processes and company culture.
https://www.cec-managers.org/wp-content/uploads/2022/07/Workprogramme-photo-e1656946418193.jpg
1403
1421
Clara Castelli
http://cec-managers.org/wp-content/uploads/2018/02/logo_spacer.png
Clara Castelli
2022-07-05 09:42:00
2022-07-05 09:42:00
EU social partners agree on their joint policy agenda for the next three years