Without the answering the « how », we won't manage climate change – CEC event
While everyone speaks about sustainability these days, only very little time is spent on the question how the transition will actually be shaped and by whom. From the European 2050 strategy "A clean planet for all" to the Sustainable Development Goals – even though their objectives are valuable, the contribution of work and managers in particular, are left aside. How can meaningful progress towards a sustainable future be achieved, if most of us still work in structures inherited from the 19th century? And how can our impacts become less harmful, if managers and workers are not trained on sustainability?  These and other questions were the topic of CEC's debate on Sustainable Leadership on 17 June in Brussels.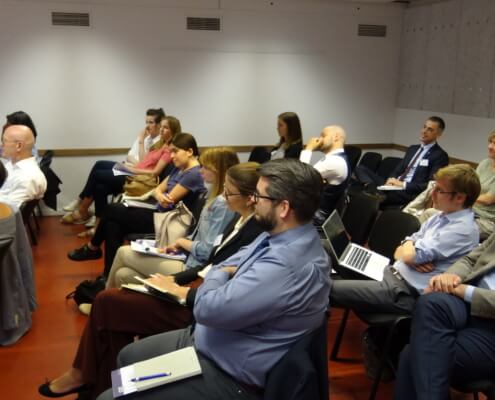 During the event, various stakeholders from EU institutions, European social partners and civil society organisations came together to discuss how management can effectively contribute to better environmental, social and economic long-term performance. Following the welcome by CEC President Ludger Ramme, CEC Policy and Communication Officer Jean-Philippe Steeger presented the first guidelines of its kind, the Sustainable Leadership Guidelines for managers.
Within a unifying framework, the document intends to answer the question how various systemic challenges – from biodiversity loss to burnout – can be turned into strategic business opportunities by managers. Actively including various challenges both within and beyond the own market, by taking a design approach, can allow for new synergies and revenue streams. Instead of just asking « what » the level of company performance is, we need to be much more aware of « how » it is achieved. This can lead to purposeful company structures, continuous learning and mindful leadership practices.
The second part of the session featured two input speeches by distinguished experts, followed by a panel debate and exchange with the audience.
In the course of his presentation, Martin Porter (Cambridge Institute for Sustainable Leadership, CISL) has drawn a picture of the economic system of tomorrow that is characterised by respecting planetary boundaries and operating within purposeful network structures to which every economic actor contributes to. The CISL itself has created support structures for this kind of innovation by opening content-focused centres of expertise and collaborative platforms.
The second major contribution came from Martin Rich (FutureFit Foundation), who explained the logic and content of the so-called "Future Fit Benchmark". This practical tool helps managers to develop a sound and sustainable business-model that can answer basic strategy questions like "What societal needs do we address?" and "What are our core competencies?". Concretely, the benchmark helps corporations to reduce harm they are currently doing, before moving towards having an actually positive impact.
Finally, PR and communication expert Fredrik Gustafsson from CEC member organisation Ledarna gave useful tips to managers on how to communicate about their company's sustainability issues. In his experience, the main challenge is that most managers are not informed about their company's sustainability performance, making it nearly impossible for them to communicate with their staff and external stakeholders about it. When they do have more knowledge, managers often shy away from humbly but honestly reporting on company progress, however small that may be. "You won't solve every problem right away, but many little positive decisions eventually add up to substantial change" as Martin Rich pointedly concluded.
Please find the PowerPoint presentation of the event and the invitation here.
You may also want to read more about the FutureFit Benchmark and Rewiring the economy(CISL)
https://www.cec-managers.org/wp-content/uploads/2019/06/website-pic-4.jpg
9000
16000
Jean-Philippe Steeger
http://cec-managers.org/wp-content/uploads/2018/02/logo_spacer.png
Jean-Philippe Steeger
2019-06-20 15:32:59
2019-06-20 16:04:57
Without the answering the « how », we won't manage climate change – CEC event