Leaders on Plan(et) B: changing management for good
As responsible and conscious members of the societies they live in, managers know the value of ensuring that economic growth cannot do (anymore) without a strong attention to the wider social "contribution" that derive from it.
By Ludger Ramme, President, CEC European Managers and Saša Mrak, MBA, Executive Director of Managers Association of Slovenia
According to some researchers, the first occurrence of the word "sustainability" can be traced in a book of a German forestry expert, Carl von Carlowitz, written in 1713. In its Treaty on Forestry, Mr. von Carlowitz defended the idea that timber should be exploited in a way compatible to its "perpetual" use, as a scarce resource that should be managed so as to make sure it could still serve the needs of future generations.
The concept has evolved since, virtually becoming a reference point in every single aspect of our life, but its foundations have remained the same: how to ensure that exploiting a resource, in a given context "fenced" by external limits and boundaries, happens to the benefit of current generations without jeopardizing the right to its use of future ones. Over the past 30 years, the environmental profile of the term has been "enriched" by reflections on its social, human, inter-relational, political and global drivers.
The closest thing the Earth has to a strategy
More recently, the UN have contributed enormously to the need to operationalize this principle thanks to the Sustainable Development Goals (SDGs), which have then become a powerful global benchmarking tool and the main catalyst for sustainability mainstreaming worldwide. These goals associated with 169 targets have been adopted in 2015 by the 193 member states and supposed to be reached until 2030. Some have called them "the closest thing the Earth has to a strategy."
Businesses in particular have a fundamental role in delivering on the SDGs, including by creating jobs, innovating new technologies, and a better use of resources like energy and water. This responsibility is also reflected in the 10 principles of the United Nations Global Compact, the world's largest initiative on corporate responsibility. The latter constitute a useful tool for businesses on how to achieve the SGDs.
Competitive advantage from two megatrends
The society's response to the biggest pollutants and energy consumers has becoming very critical. Furthermore, it can even be reflected in negative consumers decisions. On the other hand, new trends are emerging in the direction of responsible environmental stewardship and low energy consumption. This is an opportunity for companies to get a competitive advantage from two megatrends – digitalisation and sustainable development. Both will have a tremendous impact on our lives. So, this is first and foremost a responsibility to the environment and to the next generations, but secondly also to economic benefits.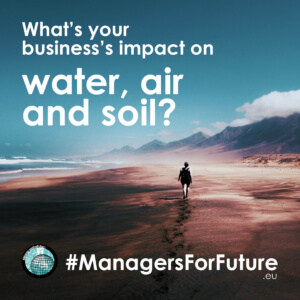 It is probably fair to say that the global community – at least its business environment and at civil society level – has reached a strong consensus on the need to embrace sustainability. And even if from a political point of view not all governments on Earth share this concern, there is a growing consciousness about the risks climate emergencies are posing to our economies and societies and the resulting need to intervene. Some of the developed parts of the world, like Central and Nordic countries, are already taking action in this direction. Finland is among the most active and innovative in Europe.
But how significantly this awareness translates into concrete practices by companies? And what instruments can support the industry – in all its sectors and levels – in the necessary changes to make sustainability a pillar of every business culture and strategy?
One of responses lies in leaders and managers and their awareness, skills, knowledge and responsibility that they have in companies and broader – in the society. We should acknowledge that as bridge-builders and as actors for change, good managers are key actors for the strategic development of their companies. Furthermore, they are obligate to help to define the best strategy to face the specific challenges as the sustainable transition is and to develop the right policies and implement them.
There is no doubt that managers and leaders – if equipped with the right tools – can be the drivers for the "sustainable revolution" of our economies. As responsible and conscious members of the societies they live in, managers know the value of ensuring that economic growth cannot do (anymore) without a strong attention to the wider social "contribution" that derive from it. Now, as environmental crises grow bigger and represent more and more clearly a real threat to the continuation of our economic structures, we are "forced" to take up the challenge to drive our societies towards a more sustainable future in which humankind won't be swept away by its own mistakes.
The green economy and sustainability are not separate from our daily lives or from the strategy and company development. There are and should be an integral part. Any company can incorporate them into their business model. Just as digitalization will touch just about everyone, so can sustainability in all its aspects. However, changes are happening too slowly despite the fact that companies have been more active than ever in pursuing sustainability to align with values and engage stakeholders, as a McKinsey Global Survey from 2017 shows. A larger share of respondents than ever before say the top reason for implementing a sustainability agenda is better alignment between an organization's practices and its goals, missions, or values. Nearly six in ten respondents say that their organizations are more engaged with sustainability than they were two years ago—and just 9 percent that engagement has declined.
#ManagersforFuture
In July the widest group of CEOs ever mobilised in Europe announced that on 1st November they will be knocking on the doors of Ursula von der Leyen, Charles Michel, and David Maria Sassoli, newly elected Presidents of the European Commission, Council of the European Union, and European Parliament, to implement an overarching strategy for a Sustainable Europe by 2030. Around 200 CEOs have joined this call, which is still open.
To raise awareness on the role of management in the sustainability transition and to discuss common challenges, CEC, the European social partner representing more than 1 million managers, has launched #ManagersforFuture. The campaign aims at discussing the evolving cornerstones of the managerial profession and the best practices to help companies adopt a future-proof management model – from skills over structure to sustainable impacts. Its aim is to raise awareness on the role management plays in shaping the sustainability transition. At the same time, it will spark debate on the purpose and vision of the managerial profession.
Because of power that business, its leaders and managers have, it is a must that a critical mass of business society understands how some goods, such as fossil fuels, free lands, metals and mineral reserves are mostly limited, while renewable resources such as water and recyclable materials are commonly mismanaged.
To conclude, if business, politics and society have started calling for some serious action, how close are we to break–even point of achieving long known triple bottom line – People, Planet, Profit? As we in business know, there can always be a plan B, but too many people are forgetting: there is no planet B.
https://www.cec-managers.org/wp-content/uploads/2019/09/MLK.jpg
6750
12000
Jean-Philippe Steeger
http://cec-managers.org/wp-content/uploads/2018/02/logo_spacer.png
Jean-Philippe Steeger
2019-09-25 12:46:14
2019-12-04 15:00:37
Leaders on Plan(et) B: changing management for good