Building bridges to the future: CEC European Managers celebrates 70 years of history
This year, CEC European Managers celebrates 70 years of history. On 7-8 October 2021, European delegates met to discuss managers' role in building Europe's future.  Managers were among the first to understand the economic and political potential of European integration. Today, CEC European Managers calls for a new leadership to seize Europe's opportunities by building a fair, green and future-fit economy.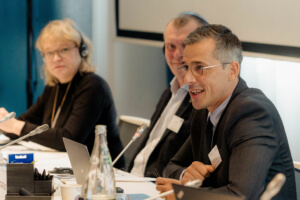 "The one million managers gathered within CEC European Managers clearly want to contribute to solving today's greatest challenges. We are ready to put our competences to use for building bridges to our common European future – from tackling climate change to gender equality and making digitalization work. To walk the talk on managing these priorities, I am convinced that social dialogue, solid Sustainable Leadership practice and greater involvement into policy-making will prove key."
Opening speech of the congress by President Maxime Legrand.
CEC European Managers' 70 years celebrations on 7-8 October 2021 in Lyon aimed at discussing the role managers play in the Conference on the Future of Europe process launched to renew European democracy. For CEC, the involvement of managerial stakeholders in policy-making, social dialogue and civil society is important in the face of today's challenges. In fact, it has been since 1951 that managers in Europe have come together to contribute to the European integration process. Back then, the Italian, French and German confederations of managers had established CEC's predecessor, the CIC.
Delivering on our priorities for Europe
On the first day, CEC European Managers has held its first Statutory meetings fully under the new team chaired by President Maxime Legrand to discuss the priorities for the years ahead and present the first achievements. In its first 120 day in office, the new executive team has met 200 stakeholders to discuss opportunities for advancing on CEC's top priorities.
Furthermore, it has been an occasion to thank former President Ludger Ramme, as well as former Treasurer Luigi Caprioglio for their year-long engagement that has contributed to building the solid basis on which CEC European Managers acts today. Sustainable Leadership, Gender Equality in Management and a human-centric Digitalisation will continue to be the top priorities of our work.
Conference: the role of managers in building Europe's future
On the second day, CEC European Managers organized a Conference in the framework of the initiative of the Conference on the Future of Europe event with contributions (click to watch) from Eva Maydell (MEP and President of European Movement International), Christa Schweng (President of the European Economic and Social Committee) and Clément Beaune (French Minister for European Affairs).
This initiative, originally launched in May 2020, represents one of the priorities of the EU political agenda for the months to come. France, which will be holding the rotating Presidency of the EU in the first semester of 2022, attaches a great importance to a successful and meaningful organization of the Conference, which is expected to come to a conclusion in spring 2022. Similarly to what we have done, other civil society organizations, the EU and its Members states have launched a series of events aiming to discuss the future of EU democracy and policy-making.
Together with experts from civil society, representatives of managers' associations and EU institutions, CEC discussed managers' capability and willingness to act, through what means and how they intend to play their role in shaping this common European future.
Event highlights
Here you can find the event highlights of our congress:
"This year, we celebrate 70 years of CEC's history and honour the visionary founding members that had build something bigger than themselves. Today, we live in turbulent and anxious times where trust ist eroded. It is our responsibility to demonstrate a leadership that prooves that another, a sustainable world is possible. " says François Hommeril, President of CFE-CGC France
"When we talk about the future, we need to listen. 'What will happen to my company, my job and my future?' Managers need to adress these concerns. The transition to a sustainable economy and society cannot wait. With our work on Sustainable Leadership, we become an active part of this necessary transition. For that, we need the best suitable managers, especially new young minds." Andreas Miller, President of Ledarna Sweden
"Managers can deliver concrete value by participating in social dialogue – at company, sectoral, national or European level. Smart agreements involving managers as own category will be key for the economic recovery, sustainable business strategies and protecting labour rights." Anne-Catherine Cudennec
"The theme of building bridges to the future clearly applies to both CEC European Managers and ourselves in Denmark. We have good relations towards government institutions, trade unions and business association. That's what we can build on to find pragmatic solutions for our economy." Svend Askaer, President of LHO Denmark
More information
Please find here the Powerpoint presentation of the statutory meetings and of the Conference
Please find the Programme of the conference here
Please find the photo gallery of the congress here
Follow the hashtag #CEC70 on LinkedIn and Twitter
https://www.cec-managers.org/wp-content/uploads/2021/10/CEC70-website-1-scaled.jpg
1440
2560
Jean-Philippe Steeger
http://cec-managers.org/wp-content/uploads/2018/02/logo_spacer.png
Jean-Philippe Steeger
2021-10-04 12:27:31
2021-10-13 15:39:33
Building bridges to the future: CEC European Managers celebrates 70 years of history