Report: Managers in Europe: today and tomorrow
The "Managers in Europe: today and tomorrow" report takes stock of the situation of managers in Europe. A decreasing number of managers manage increasingly complex challenges, including stakeholder-expectations, stress and environmental impacts. While the 20th century was about linear growth based on oil, the 21st is about interdependency and information. To succeed in building a well-being oriented economy that operates within planetary boundaries, we need to invest in sustainable leadership skills, better working conditions and professional management. A looming labour market gap for managers adds to the urgency to make management more inclusive, attractive and sustainable.
The unique report on managers' demographics, working conditions and professional sustainability, published by CEC European Managers, offers comprehensive and new insights about the professional category of managers in the EU and beyond. « European managers are innovative, qualified and make change happen. For many however, the profession has lost in attractiveness. To recruit new managers and to solve contemporary challenges, we need a new management standard for the twenty-first century » says Ludger Ramme, President of CEC.    
In total, there are 13,6 million managers in the European Union alone, constituting 6% of the employed population. This figure has decreased by a remarkable 20% since 2005. 35% of managers are female, a slight increase in the same period. Female managers in the EU face a gender pay gap of 30%, much above the average gap of 16%. To counter the likely labour market gap for managers in the future, migration, women in leadership, active ageing and better diversity management will be needed.
When it comes to managers' working conditions, CEC's European Managers Panel 2019[1] provides special insights about their development. Around a third of participants saw their working conditions, job satisfaction and career prospects worsen during the last year. With 80% of managers being concerned by stress, it is of utmost importance to find an effective solution to avoid a worsening of the situation. Our economic and environmental challenges won't be solved with a burned out workforce.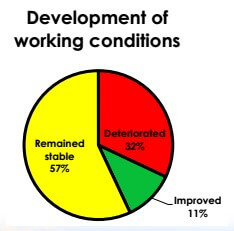 The survey was also an occasion for CEC to assess managers' skills and opinions in the domains of sustainability. In fact, only 17% of managers surveyed have received training or education on sustainability. This stands against the 77% of managers wishing for sustainability to be mainstreamed in education and training. Furthermore, a majority of managers are actively improving their environmental and social footprint, although there is yet a lot of progress to be made, particularly for emissions and waste.
For the future, a majority of managers think that the current non-financial reporting directive is not fit for purpose. The directive should instead be extended in scope and help to align businesses' Triple Bottom Line performance with planetary boundaries, also in the framework of the upcoming EU taxonomy on sustainable activities.
To conclude, the "Managers in Europe: today and tomorrow" report sets the ground for the future evolution of the profession. Data shows that European managers are today in an increasingly challenging situation. On the one hand, they have to manage more with less resources. On the other hand, not all managers have the necessary skills for the major transitions to come. Investing in skills, creating better working conditions and improving the attractiveness of the profession will prove crucial for the future of the EU economy.
Please find the full Managers in Europe: today and tomorrow 2019 report as PDF here.
[1] The survey was conducted by CEC between July and September 2019. 801 managers have participated. More information about the survey in the report.
https://www.cec-managers.org/wp-content/uploads/2019/12/MIE-1.jpg
9000
16000
Jean-Philippe Steeger
http://cec-managers.org/wp-content/uploads/2018/02/logo_spacer.png
Jean-Philippe Steeger
2019-12-03 19:16:32
2022-01-18 16:10:46
Report: Managers in Europe: today and tomorrow